A pineapple that was left in the middle of an art exhibition by two students at a Scottish university has now been "adopted" as a work of art.
Ruairi Gray, 22, and his friend Lloyd Jack, left the exotic fruit they had bought in a supermarket for £1 on a stand at the Look Again exhibition at Robert Gordon University (RGU) as a "joke."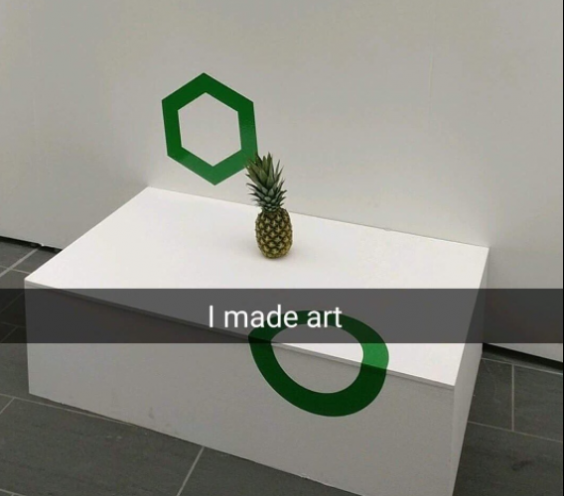 To their surprise, when the two friends later returned to the exhibition four days later, the pineapple had been covered by a glass case and put on show at the center of the display.
Gray, a business information technology student, told the MailOnline: "I saw an empty art display stand and decided to see how long it would stay there for or if people would believe it was art.
"I came in later and it had been put in a glass case – it's the funniest thing that has happened all year. My honors supervisor saw it and asked an art lecturer if it was real because he could not believe it."
It remains unclear who had the curatorial chutzpah to elevate this lonely fruit to the status of art piece. Natalie Kerr, a cultural assistant for the festival who organized the display, denies an involvement as she is allergic to pineapple.
"It's a bit of a mystery – the glass is pretty heavy and would need two or three people to move it, we have no idea who did it. But it's still there now, we decided to keep it because it's keeping with the playful spirit of this commission" she told local newspaper Press and Journal. 
The exhibition, aptly called Look Again, incentivized viewers to "look at the places and spaces around us through fresh eyes" according to the university website.
The fruity piece quickly made rounds on social media, garnering thousands of retweets, and was even praised by lecturers for its artistic originality, according to Mail Online.
Ruairi, who is in his final year studying business information technology, said he had never considered a career as an artist but that he's hoping for an honorary degree.
"If anyone wants to buy the masterpiece I am now accepting offers" he jokingly said.
The incident recalls a similar prank at the San Francisco Museum of Modern Art last year when visitors were fooled into thinking that a pair of glasses that had been left on the floor were, in fact, a conceptual art piece.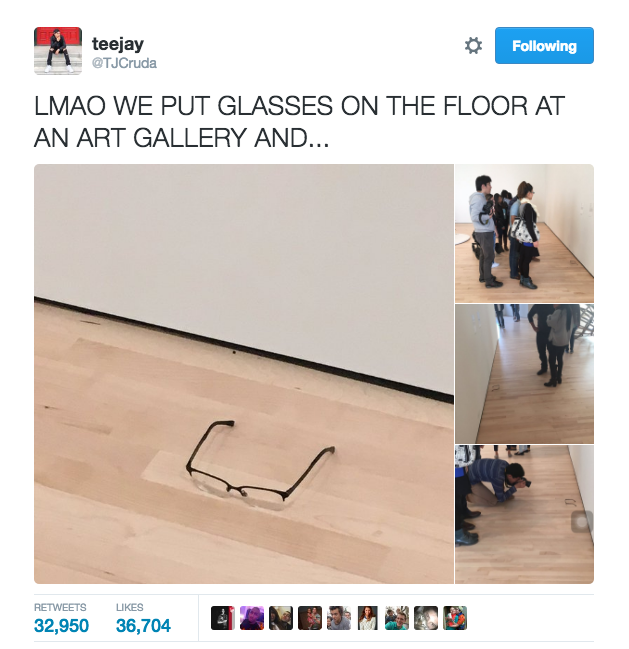 TJ Khayatan, a 17-year-old from the Bay Area, was walking around an exhibition at the museum, apparently unimpressed by the art on display, when he decided to decided to place the glasses on the floor facing the room and walk away to see how people would react.
Soon enough, people started forming a circle around the binoculars and taking pictures of the "work."
The prank sent many on Twitter into hysterics and gave others ample opportunity to vent their frustration about contemporary art, which seemed for a number of commenters to amount to pretty much anything splotched with paint and placed prominently on display.



But Khayatan himself was quick to defend art: "I can agree that modern art can be a joke sometimes, but art is a way to express our creativity," he said at the time.
Museum curators, too, took the intervention in good humor, referencing pioneering French artist Marchel Duchamp, known for challenging long-held conventions about what art "is" in their response to Khayatan's tweet.
@TJCruda Do we have a Marcel Duchamp in our midst? https://t.co/07g2VAwAod

— SFMOMA (@SFMOMA) May 26, 2016